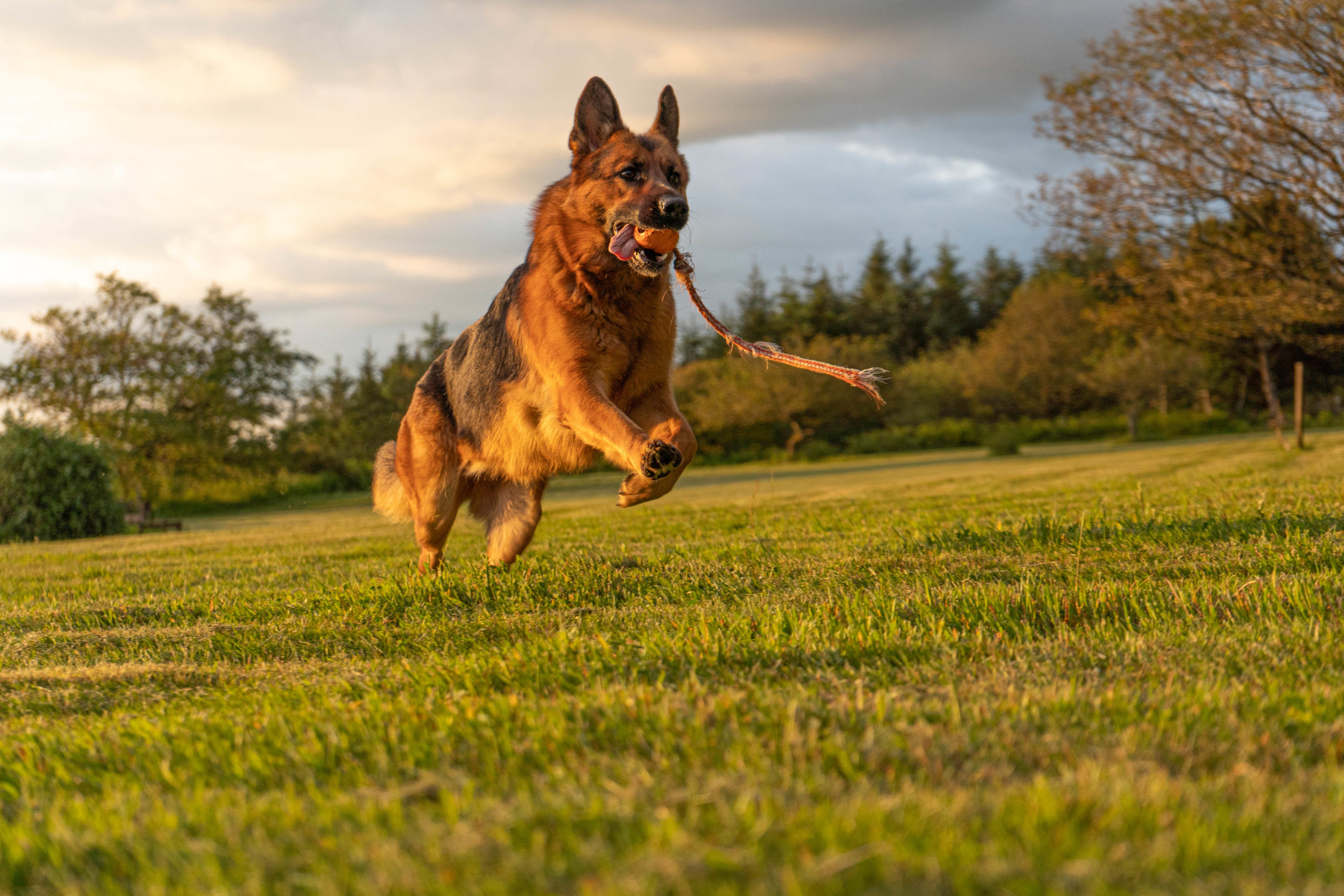 TESTIMONIAL DISCLAIMER
The testimonials are for informational purposes only and is not a substitute for expert veterinary care. The testimonials, reviews or opinions presented on our website, received in various formats, reflect real life experiences of individuals who have used our products in some way or another. However, they are individual results which vary and will be unique to each situation. The testimonials displayed are given verbatim except for corrections in grammar, typing errors or content that is deemed inappropriate.
The Daniel Baum Company is not responsible for any of the opinions or comments posted to our site. All testimonials are reviewed by the Daniel Baum Company prior to being posted.
---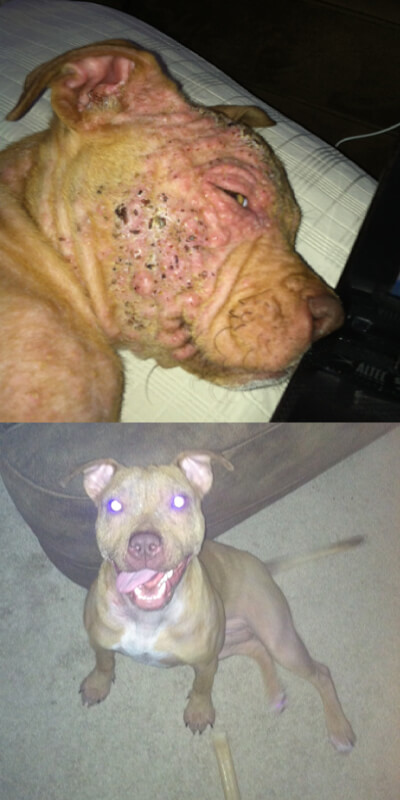 Indie's Story – Coat & Skin Enhancing Formula
Dear Kauffman's Animal Health,
I wanted to let you know how happy your Kauffmans Canine Skin & Coat formula has made us. We rescued a 7 week old puppy pitbull from an abandoned house in Philadelphia. She was left to eat her own feces and garbage in the house. When we found her, she was severely malnourished and underweight. We took her home and because her system was not adjusted to eating anything normal she would throw up everything. After trying for a about a week, it got worse. The stress set in and she had mange that spread over her entire body. She lost every hair on her body and caught an infection. We spent a lot of money and emergency trips to the vet to hydrate her and put her on medication. It was quite a scary situation.
After we stabilized her system, we wondered if her hair would ever come back. We tried a lot of different pro-biotic formulas, vitamins and anything we could find. My girlfriends father , John Marchezak, is a distributor for you. He told us to throw away the other junk we had and get her on Kauffman's Canine Coat and Skin. We were desperate and would try anything. It was amazing what happened. Our completely hairless dog started to grow hair within 2 weeks time. By a months time of using Kauffman's Canine Coat & Skin she was well on her way to a full coat. We took her back to the vet and they were shocked. They weren't expecting her to ever grow her hair back. We also have another dog that gets ear infections a lot. We have tried a lot of medicine to cure it but nothing worked. We figured we would start to give it to him too. Within 1 week his ears were clear and we have never had a problem since. This stuff is amazing. We are now clients for life. Thanks Kauffman's and John Marchezak!
I think these before and after pictures tell the story the best.
---
Tiki's Story – Coat & Skin Enhancing Formula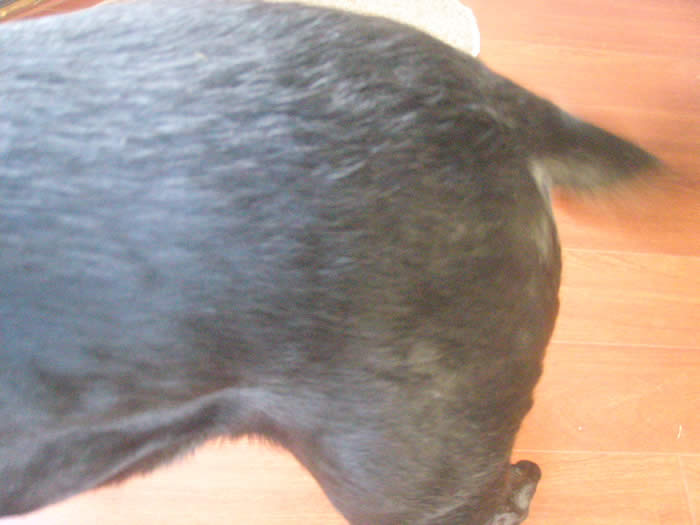 I would like to tell you a success story I have had using Kauffman's Canine Coat and Skin Supplement with my 5 year old Labrador Retriever Tiki. I know this before picture isn't the greatest but you can see that there is a big patch of Tiki's coat that looks as if big chunks of hair are missing. There are also lots of scales and dandruff in his coat. There was literally hair, all over my house – not tufts, but chunks that had fallen out and were held together with some kind of dried, yellow, crust. Totally gross.
Now, as you can see- his coat is totally beautiful- shiny and black as it was when he was a pup : ) His coat is completely full, no blotches or incomplete areas at all. He first began really losing his hair about 1 1/2 years ago and it started with his tail. There was suddenly a huge bald spot. Although most of his hair grew back at some point before he lost it again, this particular patch on his tail never grew back – until he started taking the supplement you provided.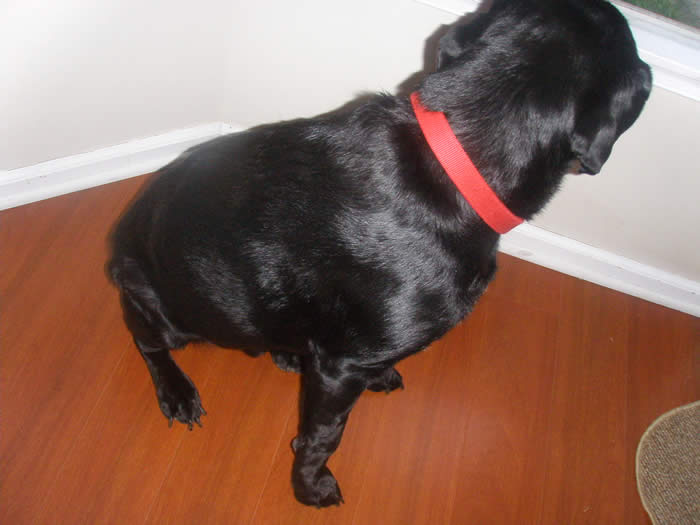 He was diagnosed through a biopsy with sebaceous adenitis. He is not taking any meds at this time and hasn't been since he began taking the Coat and Skin supplement. He HAS been eating a grain free food which I think has been helpful as well. However, while on the ultra expensive prescription grain free food only, his coat was better- but not nearly as nice as it is now. Every day I look at him and can't believe he looks so gorgeous again!
Thank you for such a wonderful product!
Susan K- Barnegat, NJ
---
Dreyfus's Story – FORTITUDE® Canine Joint
FORTITUDE® CANINE products have no chemical preservatives, no wheat or soy derivatives and have proven palatability and results. "We had excellent results in our palatability studies," said Melissa Giordano, "but the proof for me is how well my own dog has done on the FORTITUDE® CANINE JOINT supplement. My 10 year old St. Bernard loves the taste.  He gets excited about eating his meals and is showing a marked improvement in mobility; he's even playing with our other dog, an energetic two year-old.